"A man after God's heart" Nigerians hail Davido after learning he pays his workers kids' school fees
"A man after God's heart" Nigerians hail Davido after learning he pays his workers kids' school fees
Nigerians have taken to social media to hail popular singer, David Adeleke, better known as Davido, after learning that he pays the fees of his workers' kids.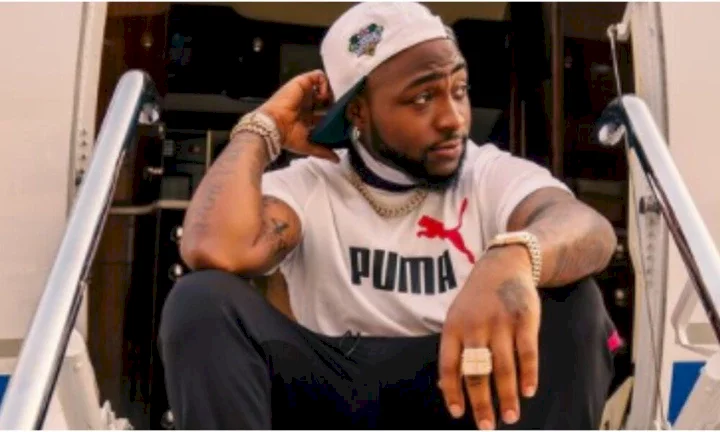 This heart warming revelation was made known by Instagram blogger, Cutie juls.
According to Cutie, Davido doesn't only pay his workers well, he pays the fees of their kids.
Cutie also revealed that Davido treats his workers like his relatives.
They wrote:
"Don't know him. Never met him and I don't even intend to but let me tell you why I will always support his brand.
"Do you know that aside paying their salaries in full, I mean full o and it's not these chicken feeds that most of your favourites including top politicians pay their workers, Davido pays his workers very decent amounts.
"And the day I confirmed he pays full school fees for most of his longest serving domestic worker's kids school fees I was just touched. I think either the man is his gateman or Driver.
"See he pays all the man's school fees. In fact the eldest or 2nd eldest is in Uni and David started paying his fees long before he got to Uni. All these goodies doesn't affect the man's salary o. He gets his salary in full and still pays his kids school fees."
Reacting to the post, Nigerians hailed him as they made reference to the Bible.
"Him name dey follow am. "He's a man after Gods heart" An internet user wrote.
One Nne Ifechi wrote: "The bible say Charity covers a multitude of Sins. May God's mercy keep speaking for David . Amen"
One Decency Babe wrote, "Get urself a man like David. Pls is there any Davidlike in here?? Hit the Hi button mbok"
"That's why God keeps blessing him..you can't be a giver and suffer.." One Ineh wrote.
One Kleny wrote, "David is a pure and kind soul that's y God will continue to bless him always and make him even bigger than he already is. How many of these musicians will ask people to donate money to them, and when people finally donate the money which by the way was huge sums of money, he now carries Everything and give it to orphanages across the country. This David surely has a heart of GOLD"
Kemi Filani News recalls that Davido recently bough a multi-million naira car for one of his aides.
Davido splashed millions on a new car for his logistics manager Isreal DMW.
This was just a few months after Israel's DMW was humiliated in Edo State for trekking and riding a motorcycle known as an Okada.
Isreal DMW took to Instagram to share a video of himself rejoicing and thanking his boss, Davido, for the considerate present.
DMW Israel also boasted about finally owning a car and complimented Davido as Africa's best auto salesperson.
How many of your favourites do these things?
The beauty of it is that, David doesn't even treat them anyhow. He treats all of them as his brothers or uncles. It's usually those "assistant Davidos" around him that will sometimes be speaking to these peeps anyhow.
This young man called David, just had one beautiful heart.
God bless him. Everyone needs a boss with a touch of David"